Visit the Kinetico Water Systems website to:
How To Add Salt To Your Brine Tank
Caring for and maintaining your Kinetico Water Softener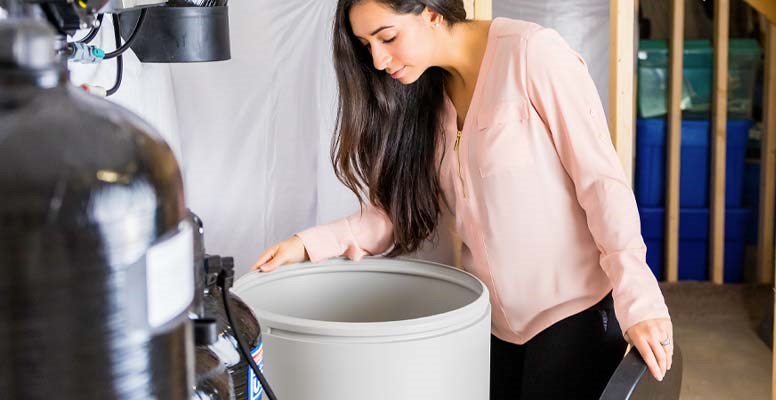 You have a water softener in your home. Great! Now you need to maintain it so it performs well and you always have soft water. While Kinetico water softeners need little maintenance, they still require that you periodically add salt or another appropriate regenerant. We suggest using Kinetico Water Softener Salt or another brand of high-quality salt your Kinetico dealer recommends for use in water softeners. It is also important to maintain the brine tank's salt level. Use the information here to help you keep your system in proper working order.
Learn More about Kinetico Water Softeners
WHERE IS YOUR WATER SOFTENER'S BRINE TANK?
The first step is to identify your brine tank (sometimes referred to as a brine drum). The brine tank for most water softeners, like the Kinetico Premier Series, will be located next to the resin tank(s). The brine tanks for Kinetico water softeners are usually gray with a black lid and will be cylindrical or hexagonal in shape. You could also have a brine tank that is all black. Salt or potassium chloride, for the regeneration process, is stored in the brine tank.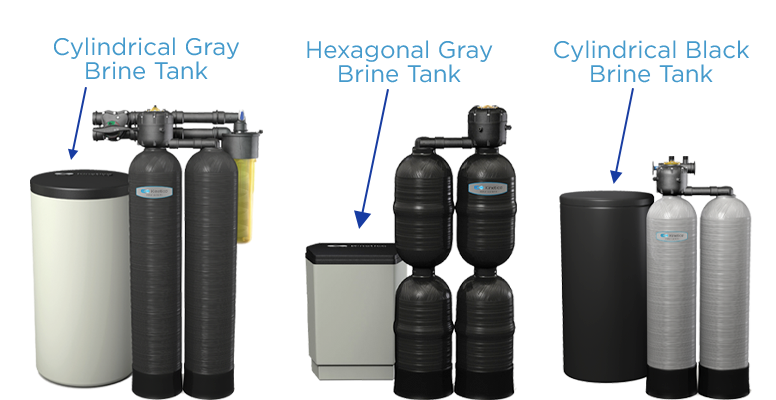 How to Check Your Water Softener's Salt Levels
To check the salt level in your brine tank, lift the lid and look inside. Can you see water or only salt? In general, you don't want to see water above your regenerant. If you can see water, add salt or potassium chloride to the brine tank. DO NOT USE rock salt. Rock salt crystals can contain dirt or other debris that could clog or harm your water softener. Instead of salt (sodium chloride) you can use potassium chloride, but contact your Kinetico dealer to find out what adjustments are necessary.
After you have had your water softener for a while, you will begin to learn how much salt you normally go through each month. This will help you determine how often and how much salt you should purchase and when you will need to add it. As an added convenience, some water treatment dealers offer salt delivery to make adding salt even easier. Many dealers also have regular or annual salt sales, making stocking up on salt more economical.
Kinex Salt Monitor
Kinetico recently introduced our latest smart home device: the Kinex Salt Monitor! When the Kinex Salt Monitor is installed with your water softener, you do not need to manually check the level of salt. The salt monitor measures your salt usage and the amount of salt left in the brine tank. The monitor, which is connected to the Kinetico App on your smartphone or tablet, will send you salt level notifications. In the Kinetico App, you can set the notifications to alert you when you need to add salt to the brine tank.
Learn More about the Kinex Salt Monitor
With the Kinex Salt Monitor, you will receive automatic notifications when it's time to add salt, and you can check your salt status at any time. No more guessing!
How to Fill Your Water Softener with Salt
When you determine your system needs salt, how much should you add? It is important not to add too much salt. Filling the brine tank completely could cause the salt to bridge. A salt bridge is when the salt pellets or cubes harden together to form a solid clump of salt. To prevent salt from bridging, fill your brine tank with salt or potassium chloride based on these guidelines.
| | |
| --- | --- |
| Water Softener Salt Usage Setting | How high to fill your brine tank |
| Medium to high | 1/2 to 3/4 full with salt |
| Low | 1/2 full with salt |
If you notice the salt has hardened, or if your water doesn't feel soft, contact your local Kinetico dealer for help.
If you have questions about your water softener, contact your local Kinetico water expert.